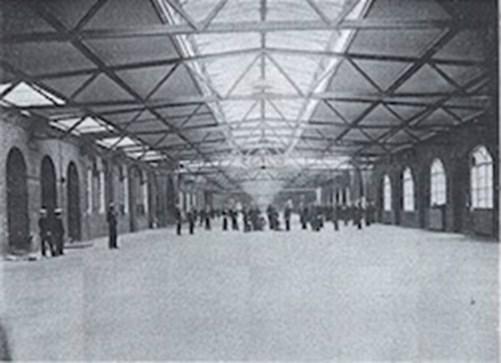 Chatham is a town located at the mouth of the River Medway in North Kent.
The town developed around the Naval Dockyard and several Army barracks, together with 19th-century forts which provided a defensive shield for the dockyard. The Corps of Royal Engineers is still based in Chatham at Brompton Barracks.
Chatham Drill Hall sits to the north of the town, and was built in 1902 to provide a covered parade ground for HMS Pembroke, the training establishment for the the dockyard.
About 250yds (230m) long and 25yds (23m) wide, it was constructed with solid brick walls and a glass roof. In its time it had various uses: naval store, building supplies warehouse, exhibition centre and overflow barracks.
In September 1917, with the war at its height, the Drill Hall was being used as a temporary overflow dormitory for sailors from HMS Pembroke. The problem of housing the men had been exacerbated by two events: men who had been earmarked to join the HMS Vanguard had been forced to remain at the barracks after the ship had been sunk at Scapa Flow: an outbreak of 'spotted fever' in the barracks meant that the sleeping accommodation had to be increased in an effort to avoid further infection.
The situation meant that, on the night of 3rd September 1917, there were nearly seven hundred men in the Drill Hall, either asleep or resting in their hammocks.
At this point in the conflict, the Germany Air Force were trialling night raids with their bombers; they had suffered high losses during daytime flights, and so moonlight raids seemed a viable option.
At around 11pm, four bombers passed over the Isle of Sheppey, heading up the River Medway towards Chatham. Not expecting a night raid, the whole of the town was illuminated and none of the local artillery were prepared for an attack.
Chatham Drill Hall took a direct hit. The glass roof shattered and those inside stood little chance. Ninety-eight men died instantly, while a further thirty-five subsequently passed away from their injuries.
Survivors tore at the rubble with their bare hands in their efforts to find those lost beneath the rubble. The rescuers continued to work through the night and the search was only completed some seventeen hours after the explosion.
Onlookers reported a tragic, moonlit scene – officers and men carrying bodies into buildings transformed into temporary mortuaries, while the seriously wounded were placed into ambulances which sped to the hospital – flying glass and falling debris accounting for many of the casualties.
The funerals of 98 of those killed in the air-raid were held at the Woodlands Cemetery in Gillingham on Thursday 6 September 1917. All the men were buried with full military honours and were followed by a procession of marching soldiers and sailors with thousands of people lining the streets.
---
Casualties
Abrey, Able Seaman John (d1917, aged 50, killed in action)
Anderson, Seaman James
Anderson, Stoker 1st Class Robert (d1917, aged 27, killed in action)
Andrews, Stoker 1st Class Alfred (d1917, aged 20, killed in action)
Barker, Stoker 2nd Class Harry (d1917, aged 20, killed in action)
Bavister, Stoker 1st Class Herbert
Beha, Stoker 1st Class Joseph (d1917, aged 26, killed in action)
Bell, Stoker George (d1917, aged 27, killed in action)
Benmore, Stoker 1st Class Frederick
Benson, Stoker John (d1917, aged 25, killed in action)
Berwick, Stoker 1st Class William
Beverley, Stoker 1st Class Walter (d1917, aged 23, killed in action)
Bird, Ordinary Seaman Henry (d1917, aged 19, killed in action)
Boyd, Stoker 1st Class George (d1917, aged 27, killed in action)
Brightwell, Stoker 1st Class Joseph (d1917, aged 23, killed in action)
Brown, Stoker 1st Class Michael
Bullock, Stoker 1st Class William (d1917, aged 34, killed in action)
Butler, Ordinary Seaman George (d1917, aged 18, killed in action)
Cable, Stoker 1st Class Frederick (d1917, aged 26, killed in action)
Cain, Senior Reserve Assistant George (d1917, aged 20, killed in action)
Cairns, Stoker 1st Class Albert (d1917, aged 22, killed in action)
Carmichael, Engineman Thomas (d1917, aged 28, killed in action)
Cash, Stoker 2nd Class Charles (d1917, aged 24, killed in action)
Charlton, Stoker 1st Class Arthur (d1917, aged 25, killed in action)
Clark, Stoker 1st Class Reginald (d1917, aged 21, killed in action)
Clark, Deck Hand William (d1917, aged 33, killed in action)
Clarke, Engineman Charles
Clements, Able Seaman John (d1917, aged 26, killed in action)
Cluett, Seaman Albert
Collett, Stoker 1st Class Robert
Cooke, Ordinary Seaman Knight (d1917, aged 24, killed in action)
Cooney, Stoker Herbert
Corker, Stoker 1st Class Benjamin (d1917, aged 24, killed in action)
Crocker, Seaman Francis (d1917, aged 21 killed in action)
Cropley, Engineman Thomas (d1917, aged 34, killed in action)
Curd, Stoker 1st Class William (d1917, aged 25, killed in action)
Diver, Stoker 1st Class Frederick
Duckett, Ordinary Seaman Victor (d1917, aged 30, killed in action)
Ellis, Able Seaman Raymond (d1917, aged 18, killed in action)
Ferrett, Stoker 1st Class Robert (d1917, aged 27, killed in action)
Finlay, Stoker 1st Class Alfred (d1917, aged 24, killed in action)
Fish, Stoker 1st Class Frederick (d1917, aged 23, killed in action)
Foreman, Engineman John
Franklin, Leading Seaman Robert (d1917, aged 23, killed in action)
Gibbs, Stoker 1st Class Alfred
Gilbert, Senior Reserve Attendant George
Ginn, Seaman Thomas (d1917, aged 22, killed in action)
Gladwell, Leading Seaman Alfred
Goddard, Stoker 1st Class Albert (d1917, aged 26, killed in action)
Godden, Stoker 1st Class Horace (d1917, aged 27, killed in action)
Godwin, Ordinary Seaman Willie (d1917, aged 20, killed in action)
Gooby, Seaman Nathaniel (d1917, aged 21, killed in action)
Goodsell, Ordinary Seaman Harry (d1917, aged 20, killed in action)
Green, Stoker 1st Class John (d1917, aged 22, killed in action)
Gunn, Seaman George (d1917, aged 24, killed in action)
Hadley, Stoker Samuel
Hammond, Stoker 1st Class John (d1917, aged 18, killed in action)
Hare, Cook's Mate Stephen
Hartnall, Stoker 1st Class Frederick (d1917, aged 25, killed in action)
Haville, Stoker 1st Class Thomas (d1917, aged 20, killed in action)
Haxell, Stoker 1st Class Arthur (d1917, aged 20, killed in action)
Hay, Stoker 2nd Class Archibald (d1917, aged 17, killed in action)
Henderson, Engineman John (d1917, aged 30, killed in action)
Hill, Stoker 1st Class Henry (d1917, aged 22, killed in action)
Hoskins, Stoker 1st Class Ernest (d1917, aged 28, killed in action)
Humphrey, Cook's Mate Arthur (d1917, aged 36, killed in action)
Jackson, Stoker 1st Class Joseph (d1917, aged 33, killed in action)
Jackson, Stoker 1st Class Sydney (d1917, aged 31, killed in action)
Jones, Stoker 1st Class Henry (d1917, aged 23, killed in action)
Kennedy, Seaman Alexander (d1917, aged 21, killed in action)
Langridge, Leading Seaman Archibald (d1917, aged 24, killed in action)
Lemmon, Stoker 1st Class Charles (d1917, aged 25, killed in action)
Littlewood, Deck Hand William (d1917, aged 35, killed in action)
Loose, Stoker 1st Class John (d1917, aged 26, killed in action)
Lutitt, Stoker 1st Class Frederick (d1917, aged 30, killed in action)
Macey, Stoker 1st Class Sidney (d1917, aged 19, killed in action)
MacGregor, Deck Hand Alexander
Mackay, Seaman Neil (d1917, aged 28, killed in action)
Magog, Able Seaman William
Mayes, Carpenter's Crewman Roland (d1917, aged 21, killed in action)
McGregor, Stoker 1st Class John (d1917, aged 19, killed in action)
McIntyre, Engine Room Artificer Claud (d1917, aged 22, killed in action)
McLean, Stoker 1st Class Alexander (d1917, aged 24, killed in action)
McNish, Ordinary Seaman John (d1917, aged 20, killed in action)
Moore, Leading Stoker Neil
Moore, Leading Stoker Percy (d1917, aged 28, killed in action)
Moss, Stoker 1st Class Alfred
Nicholls, Able Seaman Percy
Nicholson, Ordinary Telegraphist Jack (d1917, aged 24, killed in action)
Nolan, Ordinary Seaman William
Osborne, Leading Stoker William (d1917, aged 25, killed in action)
Parker, Stoker 1st Class Frederick (d1917, aged 29, killed in action)
Payne, Stoker 1st Class William
Pegram, Leading Stoker Bertie
Peters, Able Seaman Robert (d1917, aged 24, killed in action)
Purton, Stoker 1st Class Alfred (d1917, aged 19, killed in action)
Pye, Stoker James (d1914, aged 25, killed in action)
Rae, Engineman George
Raven, Engineman John
Reyner, Stoker 1st Class Frederick (d1917, aged 33, killed in action)
Richards, Stoker 1st Class James
Rigden, Stoker 2nd Class Sydney
Seymour, Stoker 1st Class Sidney
Sharp, Stoker 1st Class Horace (d1917, aged 23, killed in action)
Shirley, Stoker 1st Class William (d1917, aged 21, killed in action)
Shuttle, Ordinary Seaman George (d1917, aged 18, killed in action)
Simpson, Stoker George (d1917, aged 35, killed in action)
Smith, Ordinary Seaman Robert (d1917, aged 28, killed in action)
Smith, Stoker 1st Class William (d1917, aged 30, killed in action)
Steed, Stoker 1st Class William
Sullivan, Ordinary Seaman William
Sutherland, Seaman Alexander (d1917, aged 18, killed in action)
Upson, Able Seaman Frederick (d1917, aged 20, killed in action)
Venney, Trimmer John
Voice, Painter 2nd Class Arthur (d1917, aged 22, killed in action)
Wakeford, Stoker 1st Class William (d1917, aged 32, killed in action)
Walsh, Stoker 1st Class Edmund
Walton, Stoker 1st Class William (d1917, aged 49, killed in action)
Westgarth, Stoker 1st Class Alexander
Warne, Chief Writer James (d1917, aged 33, killed in action)
Wate, Stoker 1st Class Henry (d1917, aged 20, killed in action)
Watson, Able Seaman George (d1917, aged 22, killed in action)
Watts, Stoker 2nd Class Alfred (d1917, aged 20, killed in action)
Wootton, Able Seaman Gregory (d1917, aged 18, killed in action)